Home » self-worth
Our sense of self worth is elusive, hidden from us much of the time. What creates it? What is presently blocking it from becoming much stronger? In this 90 minute teleseminar, I lead you in tapping to create a new and powerful sense of self worth. Here you will tackle the hidden self-condemnations that lurk in the back of your mind while at the same time enhancing your sense of being a truly worthwhile person.
 Dr. Carrington's "Tapping for Self-Worth" Tapping Class
Listen right now, or download for later. (To download, right click or control click the links)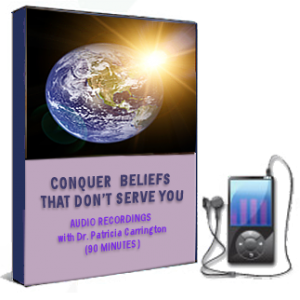 (Formerly entitled "Discover Your Unrecognized Negative Beliefs" #33)
How can you discover what your  non-conscious beliefs are so that you can begin eliminating those that do not serve you? Which way of applying EFT/Tapping is the most effective for this purpose?  How can you eradicate your unwanted beliefs permanently?  Many of our most influential beliefs are unrecognized unless we do what Dr. Carrington calls, "detective work," to find out what they are.  When we have discovered them, we need to tap systematically to replace them with appropriate positive beliefs and Choices. This audio shows you step by step how to do this.
DOWNLOAD AUDIO
$37.00
By Dr. Patricia Carrington
One of the things I love to do is read what others are writing about EFT — or listen to audios or see videos where others present new ideas on how to use EFT. I often then build on these ideas to create new EFT choices statements or Tap Alongs using them. It's like hunting for buried treasure and finding it!
One of my favorite teleseminars that I have created is called "
".