Home » eft for self-esteem
By Dr. Patricia Carrington
Of course EFT can be effective for targeting specific problems.  We all know that and many of us use it very well for that purpose.
But what about changing fundamental personality traits such as your lifelong attitudes about your own self that can undermine your functioning? Can EFT affect these continuing problems?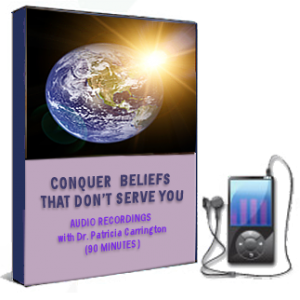 (Formerly entitled "Discover Your Unrecognized Negative Beliefs" #33)
How can you discover what your  non-conscious beliefs are so that you can begin eliminating those that do not serve you? Which way of applying EFT/Tapping is the most effective for this purpose?  How can you eradicate your unwanted beliefs permanently?  Many of our most influential beliefs are unrecognized unless we do what Dr. Carrington calls, "detective work," to find out what they are.  When we have discovered them, we need to tap systematically to replace them with appropriate positive beliefs and Choices. This audio shows you step by step how to do this.
DOWNLOAD AUDIO
$37.00