Home » raise self-esteem
By Dr. Patricia Carrington
Of course EFT can be effective for targeting specific problems. We all know that and many of us use it very well for that purpose.
But what about changing fundamental personality traits such as your lifelong attitudes about your own self that can undermine your functioning? Can EFT affect these continuing problems?
Product by Dr. Patricia Carrington (#4)
One of the most liberating and uplifting experiences is to give a multitude of "thank-you's" from yourself to yourself!
This audio brings you a new, often amazing way of appreciating your own self. Going beyond the somewhat vague statement, "I deeply and completely accept myself" (regularly used in EFT) it allows you to experience concrete, undeniable, reality-based thanks to yourself as you become aware of and grateful for the myriad ways you are presently serving yourself this very day.
You will experience self-love in an entirely new way as you rebuild your self-esteem in a myriad small ways that add up to a substantial change in your feelings about yourself. This audio can be a delight as you partake of its positive energy!
SPECIAL PRICE!
Regular Price $37.00
DOWNLOAD
$24.70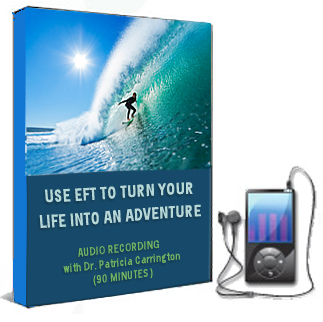 By Dr. Patricia Carrington
(Teleseminar #35)
EFT is not only useful to tap-out painful and debilitating thoughts and feelings and clear out negative beliefs; it can be used to inspire us and bring a remarkable sense of joy into our lives.
This teleseminar will show you how to use tapping to change your vibrational level to one of natural abundance and everyday happiness. You are therefore much more likely to attract truly good experiences into your life.
DOWNLOAD AUDIO
$37.00