Home » Physical Issues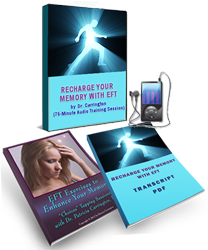 (Audio formerly entitled, Tapping to Improve Your Memory #8)
In this empowering EFT training for your mind you will learn how to:
"Tap-in" (install) new memories more effectively.
Use EFT to make unusually strong associations between any new piece of information and old familiar bits of information – a powerful memorizing aid.
"Tap-in" (install) positive Choices Phrases to create a new and more positive attitude toward memory recall.
Use EFT to help your memory to periodically restore its strength.