Home » Relationships / Family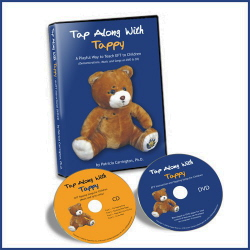 A first of its kind for children, this Album introduces EFT to the child in a heartwarming and playful way. Created by EFT Master, Dr. Patricia Carrington, it gives you a unique opportunity to share the EFT Tapping process with your child and get them started using EFT with excitement and enthusiasm right away.
This Album contains a DVD, a CD, and a full Instruction booklet, that together skillfully:
· Introduces the child to EFT and its concepts
· Explain the process in a fun way.
· Shows the Tapping points to the child with the help of a loveable stuffed bear "role model" named Tappy
· Uses songs and lyrics to get the child to Tap along.
· Provides adults with helpful resources and instructions on using the album for children.
$19.95