Home » Physical Issues » Recharge Your Memory with EFT Package
Recharge Your Memory with EFT Package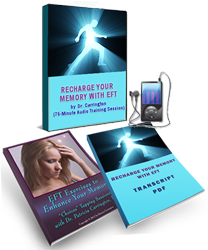 (Audio formerly entitled, Tapping to Improve Your Memory #8)
In this empowering EFT training for your mind you will learn how to:
"Tap-in" (install) new memories more effectively.
Use EFT to make unusually strong associations between any new piece of information and old familiar bits of information – a powerful memorizing aid.
"Tap-in" (install) positive Choices Phrases to create a new and more positive attitude toward memory recall.
Use EFT to help your memory to periodically restore its strength.
Tap for peace and calm whenever you are temporarily unable to remember an item.
Use EFT to heal a tired brain or for brain injuries.
Use Dr. 's EFT Choices strategies that can install many details of everyday life with such vividness within the mind that they become much easier to recall later on.
…and more…
Package includes:
75 minutes of memory enhancing audio tap-alongs,
led by Dr. Patricia Carrington
(Remix of Tapping to Improve Your Memory #8)
An e-Book of special crafted EFT Choices Exercises for Memory Enhancement, by Dr. Pat Carrington
Transcript PDF of Audio
Using these EFT strategies to recharge your memory can have deep and beneficial results!
DOWNLOAD COMPLETE PACKAGE

$47.00

DOWNLOAD AUDIO & E-BOOK

$37.00

DOWNLOAD

TRANSCRIPT ONLY

$10.00