Home » stop anxiety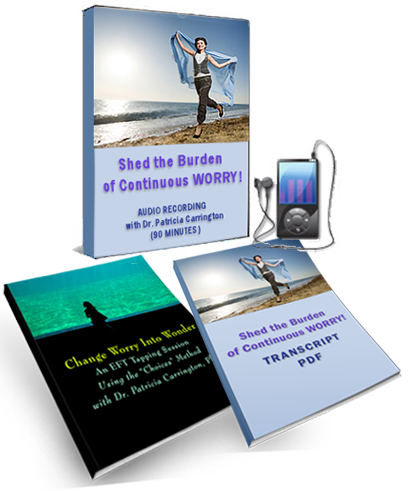 Audio and E-Book: by Patricia Carrington Ph.D.
(Previously Entitled ("Erasing the Habit of Worrying" #13)
Now you can eliminate persistent worry that may be hampering your life and replace it with intelligent concern and highly effective planning by using the Shed the Burden of Continuous Worry quick-training package.
It includes:
(Formerly titled "Eliminating Persistant Anxiety")
To eliminate persistent worry and replace it with intelligent concern is very desirable for your peace of mind and health, and can greatly increase your personal effectiveness, especially in these stressful times. This goal can be accomplished readily if we apply EFT/Tapping to the problem in a way that Dr. Carrington finds to be extremely effective for herself, her clients, and many others. These 90 minute audios focus on how to rid ourselves of the "worry-thinking" that hampers our lives, and replace it with calm and effective planning. As you listen, you will experience a burden of worry far heavier than you may have realized being lifted from your shoulders. (Read description of individual audios…)
Download all three training sessions
$111.00
(Audios are also available individually)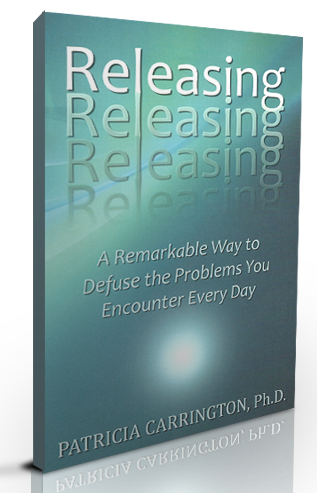 The "Releasing" method presented by Dr. Carrington in this book allows you to effortlessly let go of the need to over-control your environment.
When you do this you will find that your life flows, far more smoothly and you achieve your goals far more rapidly. This step-by-step, in many ways revolutionary book, is packed with fascinating anecdotes of clients and others who have used this method to change their lives. It is also extremely useful to all those who have learned the Sedona Method of Releasing and want to take it a step further.
Download PDF
$19.95
FREE NEWSLETTER & E-BOOK
"The Magic of Personal Choice in EFT
"