Home » meditating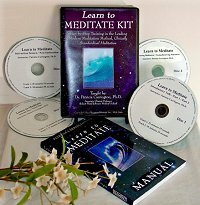 Recipient of the National Health Association Award for the Best Corporate Stress Management Program of the Year, the Learn to Meditate Kit represents the simplest, safest, and most authoritative form of in-home- meditation instruction presently available for the general public.
Stress management expert Dr. Patricia Carrington is your teacher and her voice provides a blend of authority, genuineness and warmth, which makes learning her "CSM" meditation method a unique and powerful experience.
This easy-to-follow instruction kit contains downloads of the 8 audios used in the companywide CSM meditation program of  New York Telephone Company, plus the Learn to Meditate Manual (PDF). Using this method you can master meditation within a week and feel its powerful effects at once.
Learn to Meditate Kit 

(DOWNLOAD COMPLETE KIT)

MONTHLY SPECIAL

Regular Price $49.95       

$29.70

Learn to Meditate Kit

(DOWNLOAD OF MANUAL -
CDs SENT BY MAIL)

 

$49.70

 
The Book of Meditation has been hailed as a classic in the field of modern meditation and is the leading book on the use of meditation for purposes of therapy. This book combines pioneering scientific research with sound psychological theory to debunk the myths and show how individuals can make meditation an integral part of their everyday life.
This book answers many very common questions about meditation, such as, "Are some mantras really better than others?"
Is it possible to meditate too much? (And if so, how much is too much?)
Is there scientific evidence that meditation induces more creativity?
Can it make you less productive?
These questions and many more are answered in The Book of Meditation; answers not derived from tradition or what Dr. Carrington learned from her teachers, but rather from compelling evidence and controlled experiments.
The Book of Meditation E-Book
$19.95
READ MORE