Home » meditation problems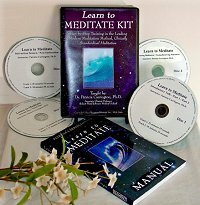 Recipient of the National Health Association Award for the Best Corporate Stress Management Program of the Year, the Learn to Meditate Kit represents the simplest, safest, and most authoritative form of in-home- meditation instruction presently available for the general public.
Stress management expert Dr. Patricia Carrington is your teacher and her voice provides a blend of authority, genuineness and warmth, which makes learning her "CSM" meditation method a unique and powerful experience.
This easy-to-follow instruction kit contains downloads of the 8 audios used in the companywide CSM meditation program of  New York Telephone Company, plus the Learn to Meditate Manual (PDF). Using this method you can master meditation within a week and feel its powerful effects at once.
Learn to Meditate Kit 

(DOWNLOAD COMPLETE KIT)

MONTHLY SPECIAL

Regular Price $49.95       

$29.70

Learn to Meditate Kit

(DOWNLOAD OF MANUAL -
CDs SENT BY MAIL)

 

$49.70