Home » Music for Healing » HARMONIC EFT - by Dr. Patricia Carrington and Mark Romero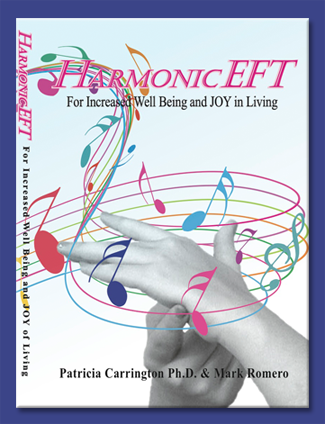 A Great NEW WAY of using EFT/Tapping
and the Healing Music of Mark Romero!
THE ORIGINATORS
| | |
| --- | --- |
| | |
| Mark Romero is an internationally known energy healer, guitarist and teacher. His music has helped thousands of people experience instantaneous healings and shifts in their perceptions. | Dr. Patricia Carrington, Ph.D., is a leading psychologist, EFT Master, author, pioneer in the field of energy psychology, innovator, and creator of the popular "EFT Choices Method". |
The unique Music-With-Narration Series known as Harmonic EFT brings you inner freedom and joy as you respond to the healing energy vibrations in the music at the same time that you tap on the selected acupressure points of in the EFT technique (and there is no need to know EFT before using this recording!)
WITH THIS COMBINATION OF MARK'S MUSIC AND EFT "TAPPING" YOU WILL…
Rapidly dissolve major energy blocks
Experience increased inner power
Break free from negative beliefs
… and be inspired to live more joyously
Two powerful "Energy" methods are merged to help you do this in this unprecedented series of recordings known as HARMONIC EFT. They can be purchased in either form:
Harmonic EFT ALBUM (2 CDs + 1 pdf):
at $47.00 (plus shipping)
or

Harmonic EFT – Downloadable Version (12 MP3s + 1 pdf):
$47.00 (no shipping)
We hope you enjoy this very new experience!
—————————————————————————————————-
* EFT (Emotional Freedom Techniques) is a leading stress management technique that combines ancient acupressure with modern psychology to achieve deep personality change.
For more information write to:
www.MarkRomeroMusic.com or MasteringEFT.com