Home » Meditation & Relaxation » CSM Supervisor's Kit
CSM Supervisor's Kit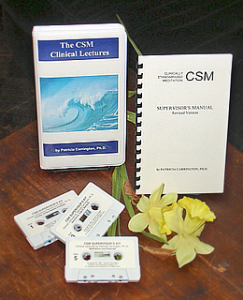 Product by Dr. Patricia Carrington
Due to high demand, this product is temporarily out of stock. To be notified when this product becomes available, please contact
The CSM Supervisor's Kit consists of 6 lectures (available as 3 CDs or audio downloads) plus a Supervisor's Manual. Some of the topics covered in the kit include; using CSM with a variety of clinical conditions (e.g. anxiety, stress-related disorders, sleep disorders, schizophrenia, addictions, etc.); the role of the supervisor using CSM in clinical settings: how to motivate and help trainees to maintain the practice; suggestions for suitable training locations and on-site protocol, running group training and follow-up sessions, using CSM in research, and using CSM in educational and organizational settings.
NOTE: Each student who is learning to meditate will need their own Learn to Meditate Kit, sold separately or as part of the CSM Professional Pak for Clinicians.
CSM has considerable value when used within organizational settings.
Commercial organizations
Public authorities
Stress and life-style management courses
Health care providers who wish to use CSM as a clinical or research tool can obtain a CSM Supervisory Kit which will enable them to supervise the use of this method for their patients or trainees. The kit contains clinical lectures on the use of CSM with varied personality and health problems (on three audio-tapes) and a Supervisory Manual.
$49.95