Home » Anxiety and Fears

Teleseminar #40 Clearing Financial Fears with Emotional Erasing
Sometimes something we have created, becomes one of our favorite things to share…
This may not be because it is excellent from a professional standpoint, although it may be that, but because it "hits the spot" for almost everyone who uses it.
If you worry about your finances in the hope of finding an answer to challenges around money, you soon discover that this doesn't lead to productive action or inner peace – this teleseminar could produce an amazing turnaround for you.
In this powerful training event, you will learn a new EFT process, Emotional Erasing, which allows you to counter the destructive effects of negative and alarming self-talk (something we all experience during stressful times), at the exact moment you are experiencing such negative thoughts.
I (Pat Carrington) can guarantee that the audience interactions and Tapping exercises within this 70-minute audio of one of my most popular live teleseminars, Clearing Financial Fears, along with the Tap-Alongs in my brand new 18-page e-book, Excessive Worrying About Finances: How to Transform it with EFT, will totally shift the way you handle any financial difficulties you may be facing.
The live event was one of my most inspiring teleseminars for all who attended, and I believe my new e-book, combined with the recording of that teleseminar, truly makes this one of the most useful self-help products I have ever presented to you.
Now, for a limited time, you get it at the greatly reduced price (ridiculous actually) of only $7 for the entire package.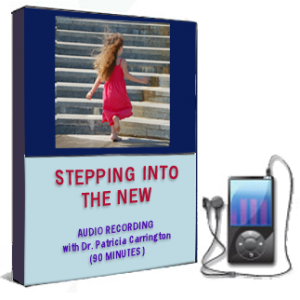 Product by Dr. Patricia Carrington
(Formerly Clearing Your Fears of Newness Using EFT #39)
Is there something you would like to do but you think you just can't do it? Change your job? Learn a new language? Ask someone for a date? Take a crafting class?
In this training session, Dr. Carrington addresses the "Newness Fear;" a common problem that stops people from making very constructive moves in their lives just because they have not done a particular thing before (or failed at it in the past).
During this 90 minute class, Dr. Carrington teaches a powerful new EFT-based technique known as "Emotional Erasing" to rapidly counteract the damaging impact of negative self-statements – those critical thoughts that so often express derision and self-doubt. This surprisingly effective new approach sets you free to move ahead with constructive projects and important next steps in your life.
Don't be afraid any longer!
SPECIAL PRICE!
Transcript Only

Regularly $15.00

$10.00

Audio Recording (MP3)

Regularly $37.00

$24.70